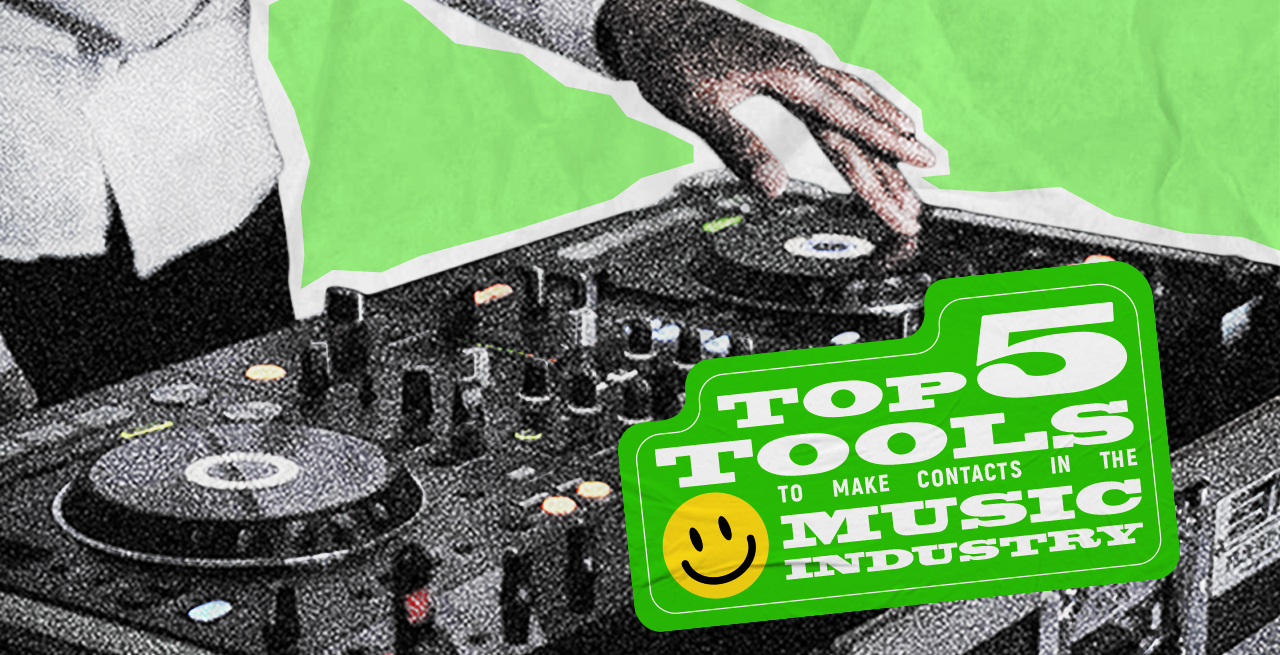 Full of dreams and starry-eyed, you are an artist and you intend to make it known. Today, thanks to social media (or because of them), living from your music also requires you to have good connections and to surround yourself with the right people to make your project an attractive and viable one.
With this top 5 of the tools at your disposal to make contacts in the music industry, we kick-start our series of articles focused on tips to get inside the music world.
Beyond the legendary "word of mouth" and "string-pulling" which have their limits and their drawbacks, you can, of course, begin by speaking about yourself and your music via your social media accounts.
This first suggestion certainly seems logical for most of you. But as we say it every day to our artists at Diggers Factory, to make yourself known as an artist, having an account focused on your art, clearly presented and well fed is the basics you can't go without.
On these accounts (Instagram, Facebook, Twitter, TikTok, Club House…), we strongly recommend that you follow labels, media and artists of the same genre (depending on the kind of music you're playing, you're not going to follow the same people).
PS : if you have a favourite artist with whom you'd like to collaborate or that you dream of being part of a specific label, it'll cost you nothing to send them a message to introduce yourself ;)
Drooble
One of the best ways to evolve and to improve your skills as a musician, as well as in life in general, is to learn from your mistakes. However, it can prove difficult to pinpoint a mistake by yourself, especially as an artist. When you've been working on a song for a long time, you've heard it so many times that you end up hating it without being able to put a finger on what the issue is….
And that's where Drooble intervenes! Drooble links you up with new sets of ears ready to give their time to help you. You'll receive constructive criticism from experienced musicians who'll pinpoint the elements you might have neglected and will determine the issues on which you have to work on to improve your music.
No need to thank us, go for it !
Andrson
What is Andrson ?
Simply put, Andrson is a platform for musical discovery with a powerful algorithm. Thanks to an "unbiased analysis" of your music, you're sent to the top of the list when someone searches for a musician like yourself. Andrson directly connects your music with the main actors of the music industry.
Unclear ? Let's take an example.
You filled your profile out and put your track(s) on the platform. If a salesperson from a record company or a label wishes to find a singer between 26 and 35 years old, within an 80 km radius around Paris and who sounds like Nina Simone, you'll appear in the search results if you fit the description.
"Don't lose yourself in the blur of thousands of other artists who are fighting to get a place. Let your unique sound prevail by itself."
Groover
A French company now known and recognised abroad in the musical industry, Groover helps you promote your music !
In other words, media and professionals of your choice really listen to your track and give you feedback (guaranteed). They swing into action to highlight their favourite tracks. Say goodbye to long hours of searching for contacts in vain… On Groover, you can write to professionals in just a few clicks !
You'll receive valuable advice and more coverage at the same time. You'll expand your public and press relations which are of the essence when you want to exist beyond your inner circle as an artist. Groover provides a set of features perfectly designed for doing marketing in the music industry and promoting artists. This platform is a win-win for everybody : artists are listed, reporters save time and easily find their next candidates, agencies, labels and managers can effortlessly showcase their talent. Fantastic !
Sound better
Do you need another artist or technician to help you in the creation of your music ?
Recently purchased by Spotify, SoundBetter is a service rental platform ! Producers, mixing and mastering engineers, singers, songwriters and much more…
You can easily create a profile and be hired by other artists looking for your set of skills ! On the contrary, you can find the right person to help you finish your tracks ! Probably one of the best alternatives for creating music which is safe and paid.
Bonus
We also suggest you to follow and to read Cedric's Workshop articles and interviews who interview music industry professionals for small artists ! A gold mine to better understand your industry and the climate in which you progress with the possibility of getting tailored coaching to boost your career ! It's on the house ;)
In the hope that this article will have given you some useful tools to make new connections in the musical industry and to carry out your sound and artistic projects.
In any case, we are convinced that developing your network with quality content and on a regular basis, speaking and starting a conversation with your fans remains the best strategy. At least, that's what we observe amongst the thousands of artists who have already joined us.
There are still a lot of tips to help your community, if you need help to launch a campaign to sell vinyl records (without paying for them), we're here to advise you !
Contact us !