Everyone knows about the special grain and the unique sound of vinyl records, but to get the best of it, an appropriate equipment set is required. This article presents the best ways to make your records sound right.
Choose your turntable
Let's start with the basics: turntables! There are multiple models and your choice will depend on your budget and on the way you plan to use it (DJing, relaxing at home listening to records…). From the legendary Technics SL-1200 to the high range turntables with Moving Coil system, there is undoubtedly one made for you!
You can find cheap all-in-one solutions to play records, but those are often of poor quality. Some of them are even equipped with speakers and enable 33 rpm, 45 rpm or even sometimes CDs to be played ! However, as most parts of those turntables are made out of plastic, the vibrations aren't optimal and the sound isn't the cleanest. Better turntables can easily be found without breaking one's bank account. The most important is that the quality of your turntable and its components matches the quality of the elements you will connect to it. A high-end turntable paired with mid-range speakers will only results in mid-quality sound.
Also, choosing a turntable is all about anticipation. If you are planning on progressively upgrading your turntable with parts, then you should turn to an scalable turntable. The more scalable the turntable, the easiest it is to find part to upgrade it !
If you plan to simply listen to your vinyl records at home, Pro-Ject broad catalogue of turntables is a real convenient solution. Their price-range starts at 200€. With a refined design and a clean and pure sound, those are perfect for beginners. You can even get it delivered with pre-settings! Just lay back, drop the needle and enjoy.
Their other production range is composed of turntables called Technics. They are cut out for Djs and have even been at the starting point of some music genre. They are perfect for doing some scratch, popular technique in hip-hop music.
Preamps & amplifiers
If you have crossed the all-in-one turntable option out, chances are that you will need a preamp. Actually, the signal produced by your cartridge is pure and precise but also kind of weak. When choosing your preamp, take into account the type of amplifier and turntable you will use. There are 3 kinds of preamps: MM (Moving Magnet), MC (Moving Coil usually sounds better than MM) and MM/MC (those are often the most expensive as you can use them equally with MM and MC cartridges). Without a preamp, the signal will be amplified with imperfections and it may sound awful. Regarding amplifiers, choose them depending on your speakers (classic speakers, Hi-Fi...).
Cartridge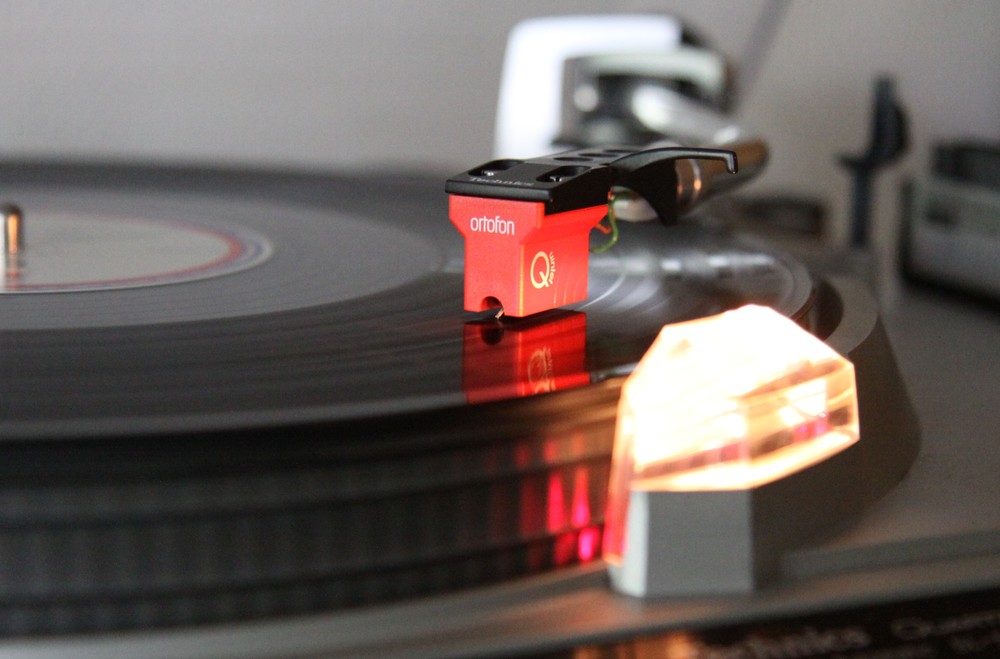 The acquisition of a cartridge is essential for those who want to enjoy a rich and high-quality sound. Unless you have chosen a high-quality turntable, it is likely that the cartridge provided is not satisfactory. Here again you will have the choice between MM and MC cartridges.
Last tip: if you plan to read 33 rpm and 45 rpm discs, make sure your turntable has two playback speeds! If you are a collector and want to spin 78 rpm, you will need a three-speed turntable and a dedicated cartridge that you will install each time you listen to 78 rpm records.
##To sum up##
3 things to bear in mind:
Run away if you see a turntable that is mainly composed of plastic
Make sure that the different elements of you sound system are compatible with each other ( MM or MC)
They are endless possibilities to find a turntable that pleases both your ears and your bank account.
Staff Suggestions
For beginners, you can turn to turntables like this one. You will benefit from a solid and complet object under 300 euros.
For a more professional option, the Technics 1200 GR is a reference item which guarantees a very stable reading of your records.
And if your budget is unlimited, than go for the Technics SL1000R. This technological wonder is 16 000 euros and weights more than 40 kilogrammes!